For this tutorial, the gadgets used were:
MacBook (Mac OS X 10.4.7)
Sony Ericsson K608i (obviously with a Smart Buddy Prepaid Sim Card)
You can use any GPRS capable handset. Just make sure to install/download the correct settings. Call Smart at *888 on how to activate GPRS on your handset.
Why use Smart? Smart GPRS rates are reasonable than Globe. Surfing via GPRS in Smart will only cost you 10 pesos per 30 minutes compared to Globe's per KB pricing.
1. Pair your mobile phone with your Mac via bluetooth
2. Download the corresponding modem script for your handset from http://www.taniwha.org.uk/
3. For the K608i, I downloaded
Scripts for (Sony) Ericsson GPRS phones (36kB):

4. Extract the contents of the file you downloaded at /Library/Modem Scripts/ (use Spotlight and type Modem Scripts)
5. Open System Preferences, select Network, Show: Bluetooth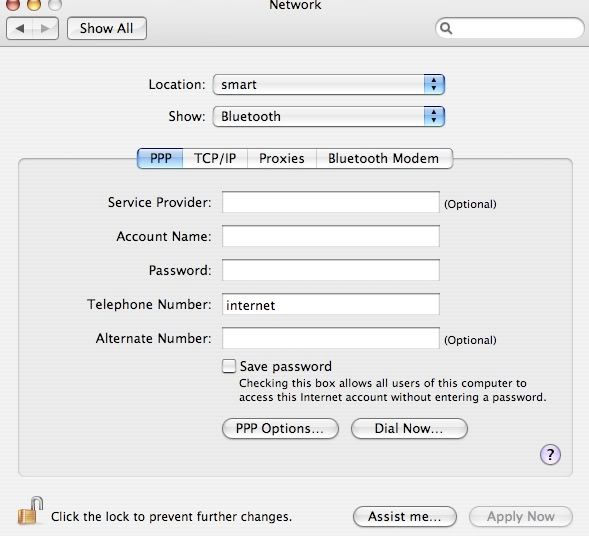 Select the PPP tab, enter "internet" (without the quotes) in the Telephone Number field and leave everything else blank.
Select the Bluetooth Modem Tab
This is the trial and error part. Start by selecting Sony Ericsson GPRS CID1, then apply now. Go back to the PPP tab then click on Dial Now. The Internet Connect Window will pop up then click on Connect. If you weren't able to connect, go back to Bluetooth modem tab and select Sony Ericsson GPRS CID2 and then repeat the process until you get connected. There are 5 GPRS scripts and one of those will connect you to GPRS. You know that you're connected when you see this
You can now start your browser and surf away. But this only good for checking emails or light surfing as GPRS is too darn slow. This is only good if you're on the go and there are no wifi hotspots around and you really need to check on something online.